Online Bookings Part 2 – Setting Up Your Availability.
To set up hours of availability, go into the Availability section and under Regular Weekly Hours input your set schedule. For example, let's say you have a fixed schedule of 9:00am-5:30pm (including a one hour lunch break) on all business days. When typing in hours, be sure to always include the minutes as well as the correct am/pm; typing in 9-5 will not register and will revert back to the default time of "closed". Forgetting the am/pm can result in the wrong hours being scheduled.
To account for a lunch break you'll need to divide your hours into two sections which are comma separated. For instance, if you take a one hour break at noon everyday you would input that as "9:00am-12:00pm, 1:00pm-5:30pm." Be sure to include the comma.
The system does not require you to include a break into your scheduling hours, the hours/days of availability depend only on you! If your Wednesday hours vary and you work from 12:00pm-5:00pm, go ahead and put that in, it's your schedule. Always remember to hit Save Hours.

Limiting the Amount of Appointments Scheduled Per Day or Per Time Slot
Another feature Acuity has is the ability to limit the number of appointments you'd like to schedule in one day. For instance, as a massage therapist the work is pretty labor intensive, and it would be best to work no longer than 5 hours a day. In the Availability section there is the option to accept new appointments until completely booked per day or to accept a maximum of appointments per day.

I'll set the maximum amount of appointments to 5, allowing one appointment to be scheduled at a time. If your business allows for multiple appointments to take place simultaneously, you can modify that number where you see "Allow appointments to be scheduled during the same time slot." Input however many appointments you can book at a time there.
Blocking Off Time
Blocking off time for events is super simple. In the Calendar View for day or week click on the time you'd like to start blocking off, and drag down to the end time.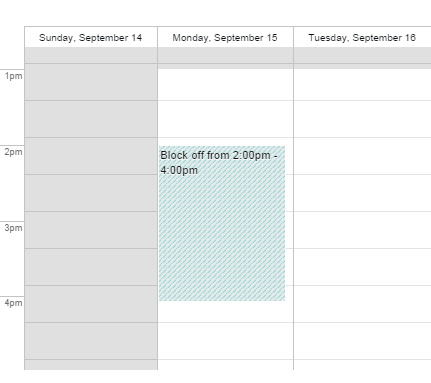 You can then write in a note as to why you're blocking that time off (a dentist appointment, a wedding to attend, etc.) Be sure to hit the Block Off Time button to save your changes!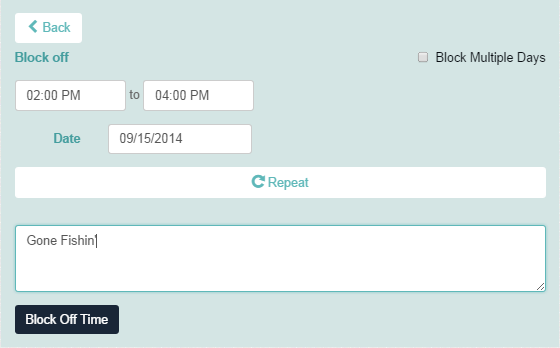 To make blocked off time recurring for a set amount of time, just hit the Repeat button and input for how long you'd like this time blocked off. In the example, I've selected to block off every Monday from 2:00pm-4:00pm until December 15th.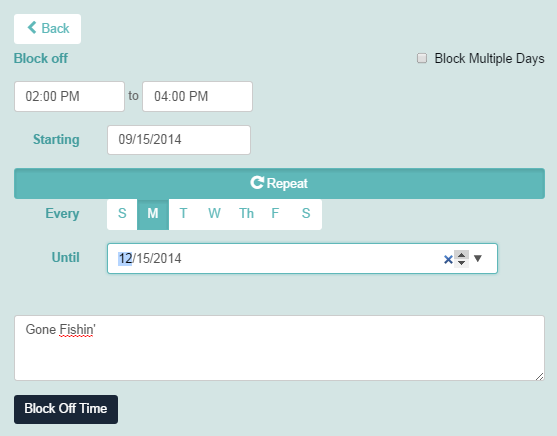 Blocking Off Time for Vacations and Holidays
To block off time for a vacation or holiday, go into the Availability section and hit the Override Regular Hours button. Let's say you're going on vacation for 3 days and won't be available to take appointments, select the first day you'll be out then select the last day.

This is an example of what the end result would look like if I needed to take off the 24th, 25th, and 26th. This ensures that my availability would be blocked off on my calendar. Make sure you hit Save Hours to finish.

If you think you are ready to try Acuity Scheduling yourself use this affiliate link to sign up for a free trial.
Or remember that you can ask me to do it all for you if you don't have the time or resources.
In Part 3 we'll be looking at how to capture extra information from clients at the time of booking.